Junior Quad Biking is perfect for young adventures looking for an exhilarating off-road riding experience. Hop onto one of our 50 or 90cc junior quad bikes and take on our all-weather track. The course itself is designed to be a fun and challenging experience for both beginners and more experienced riders. We've got bumps and bends to tackle, and straights where you can really pick up the pace! And, whether conditions permitting, plenty of mud and puddles to splash through, too. 
Each participant should complete 6 laps as a minimum during the 90 minute session but this will all depend on the ability of the group.  
Riders should come prepared wearing the following: long sleeves, long trousers, sturdy shoes or boots (no sandals, flip-flops, wellies, crocs etc.), no jewellery and long hair tied back. 
Please note that only one bike/person will be permitted on the track at any one time.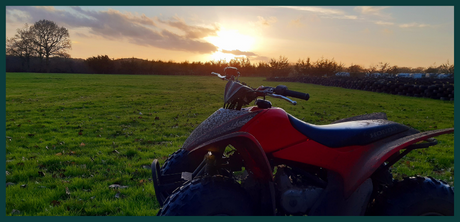 The session time includes the kit-up and briefing. We'll provide riders with safety wear, including helmet, goggles and gloves, and instruction on how to master the controls before they head out onto the track for a minimum of six laps.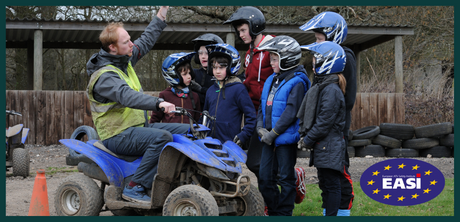 Riders will receive full supervision and guidance from one of our EASI qualified junior quad biking instructors. They'll provide a safety brief and test to ensure that youngsters can feel confident and safe throughout this fun-filled experience.


This includes a 90-minute session with kit-up, brief and full supervision.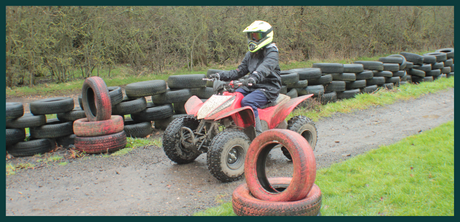 Our Junior Quad Bike Experience is suitable for children aged 8-15 years. We have two quad bike sizes available; children ages 8-11 years will take on our 50cc bikes, whilst those within the age range 12-15 years will be able to ride our 90cc bikes.
Frequently Asked Questions
Do I have to book or can I just turn up on the day?
Junior Quad Biking is one of our pre-book-only activities. Unfortunately, you cannot turn up on the day and you must book in advance. Booking is subject to availability and we cannot always guarantee that slots will be available on same-day bookings.
What is the maximum group size?
The maximum group size is 8. 
What are the height and weight restrictions? 
There are no height requirements for this activity but all participants must be 8 - 14 years old. There is a maximum weight restriction of 40kg or 6 stone on the 50cc bikes and 85kg or 13 stone on the 90cc bikes.  
Is there anything particular my child needs to bring or wear?
Long sleeves, trousers, and appropriate footwear (trainers or boots) are a must. Riders will not be able to participate if they are wearing shorts, sleeves, or opened-toed shoes. Our track can get pretty muddy, so probably not the best idea to wear those new trainers or your favourite hoodie! A spare change of clothes and shoes for after the session is always advised.
Can family and friends spectate?
You are welcome to spectate as your youngster shows off their new skills. We have a small sheltered area for participants' family and friends. Please be aware that the walk up to the track can be muddy, so we'd advise you wear the appropriate footwear.
Is this activity available all year round?
Yes, but please be aware that this session is weather-permitting. Quad biking is great fun when there's lots of mud and puddles to contend with, however, if we experience a period of heavy rainfall the track can become too waterlogged and unsuitable for use. In these rare circumstances, we would contact you to inform you of the cancellation and offer either a full refund or arrange to re-book your session.
What if I need to cancel my booking?
If you cancel your booking within 28 days of the event then the 30% deposit is non-refundable and if cancelled with more than 28 days notice then you'll receive 50% back of the 30% deposit paid.